Bed of Roses was released on video in the United States on the 25th June 1996. In order to celebrate the release of Bed of Roses we ran a competition. This competition was run from the 16th June until midnight on the 30th June 1996, US PST.

We selected the 10 most romantic stories for you to read and you have voted for your favourite. The winner of the Bed of Roses Competition is Story Number 7 - "the lost ring in the snow". This was by far the most popular story!! Congratulations to F Blouin. I would also like to thank the rest of you who submitted stories for taking the time to do so.

We will be having some more competitons in the near future, and I have received some interesting articles to use as prizes. If you have any ideas for a future competition, we would love to hear them.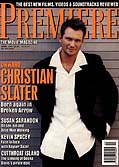 The winner will receive an April UK Premier Magazine, with Christian Slater on the cover!
Congratulations to F Blouin who will be receiving a copy of this magazine very soon.
Here are the stories, in no particular order. We have left them here for you to read even though the voting has finished. You never know, they might give you some great ideas or inspiration!!
---
No.1
It was my 19th Birthday and my boyfriend came over and didn't mention it at all. I was really disappointed because we had been dating for 2 years. Later that night I was in my PJ's and there was a knock at the door and a man brought in a parcel on a trundle wheel. When he left I opened it, and out jumped my boyfriend with a big red bow wrapped around his waste. We had a wonderful time and he gave me a locket with a picture of him inside it and a card saying "I Love You" in it. That was so sweet, I will never forget it. - Courtney
---
No. 2
My girlfriend and I were going through a really tough time not too long ago. So to show her that I was still in love, I went and bought her a dozen roses and the most beautiful engagement ring you have ever seen. I planned a romantic evening for the two of us. Well I picked her up in a limo took her to an elegant restaurant, we had a romantic dinner, you could feel the love in the air. After dinner we took a walk on the beach and just talked. Then I knew it was time. I had our limo driver take us to the hotel. I had reserved us a beautiful suite. I took her up to our suite with it looking all romantic, a dozen roses on the bed. When she walked in and realized how beautiful it was she began to cry. I took her to the bed and sat her down and asked her "WILL YOU MARRY ME." To my surprise she said yes. We now have been married for a year and have a beautiful boy named Dominick. By the way my wife's name is Nikki.
---
No. 3
My story begins with a fight that began immediately after seeing Bed of Roses. I of course was all aglow with notions of true love and fairy tales and my boyfriend was laughing at me and saying how "chick movies" wreck relationships because then we women expect totally unrealistic actions from our boyfriends. Anyway it turned into quite a battle and the next day as we walked along a street downtown I was still angry and hurt inside and wishing it wasn't just all in the movies and starting to feel like he was right. I went into a store, he didn't want to go in so he said he'd meet me in ten minutes. I was looking in a jewelry case 5 minutes later when he walked into the crowded store carrying an ARMLOAD of roses. He handed them to me and gave me a huge kiss right there in the store, which was quite crowded. Everyone clapped. It was just like in a movie but it was real.
---
No. 4
By far the most romantic experience in my life was when my husband proposed to me. He had been staying up late working on a project for months. His roomates would tell me only that he was sleeping only 4-5 hours at night that it was made of metal and that it had to do with the future. I thought this odd as his primary interest in life is the past. He is a hard core buff of medieval history makes weapons costumry etc as a hobby. I had recently bought a house and moved away from our old neighborhood. One morning bright and early my kids woke me up and took me into the back yard in my nightgown to show me something. Of course there was nothing there but they were very excited and jumping up and down. I was just beginning to get annoyed at being woken up when in walks this knight in chain mail armour, sword, shield, helmet and all. He proceeded to stake my territory with the sword knelt down on a knee produced a ring and proposed in olde english language. My kids were screaming say yes and mommy that ring has a diamond in it-say yes the 5 year old. The project he had been working on was handmaking all of the chain mail the loopy kind with all the little rings interconnected and rest of the costume all those months. Of course I said yes and we've been happily married now for 3 and a half years. He continues to work on his projects, which right now includes redecorating our bedroom to look like a castle including the stone wall. Not quite as romantic but should be interesting to see.....- Lisa.
---
No. 5
On one very cold day of this year my boyfriend and I were sitting in my garage. He was very cold because he had short sleeves on but I had a sweatshirt on. So finally we just decided that the best way to warm ourselves up was to just hold each other for a long time. That made him really happy and me too because we had never been that close to each other before. So we just sat there and it was one of the best days of my life. Then he said that he knew another way to warm us up but his mother came to pick him up and we couldn't use his idea. It wasn't anything bad he just wanted to make out.
---
No. 6
Well last year I had just gotten hired with a long distance trucking company. Knowing I was happy but scared about being alone on the road my better half snuck into my truck the night before I left. When I climbed up into the cab the next morning four HUGE stuffed wolves were sitting in the back sleeper surrounded by white and red roses, dethorned of course, and a letter from him promising to always take care of my nightmares and make my dreams come true. It also included a calling card so I would always be able to call home if I needed. It might not sound as romantic as Bed of Roses but to me he is all I could ever want or need.
---
No. 7
My boyfriend and I were playing in the snow one afternoon when I glanced down at my hand and realized the ring he had given me for my birthday was lost. At about 4am that night the doorbell woke me up and I opened the door to find him standing on the porch. He must have spent hours searching through the freezing snow and darkness but somehow he had found my ring. Wanna know what he said when he slipped it back on my finger? "Anything to see that smile." Now whenever I'm lonely or scared or can't sleep at night I think of my boyfriend and his flashlight searching through the cold and dark trying to find a way to prove how much he loves me.
---
No. 8
When I was in sixth grade a boy named Billy Finley liked me. I kind of liked him at the time too. So one day in Language Arts he put a white box in my bookbag. Then he told me to open the box so I did. When I opened it there was a little ceramic shitzu wrapped in tissue paper. After that we went out for 2 months and 1 week. Kelly Wilson, age 13, Dublin, Ohio.
---
No. 9
I had met an army man in Germany while visiting friends there. I had gone to Prague for the day shopping. When I got back on the bus he was waiting there to pick me up took me to his house got a nice hot bubble bath ready for me and made me dinner.
---
No. 10
It is quite ironic how my romantic story runs along the lines of Bed of Roses. When my current husband proposed to me he left a trail of rose petals up the stairs of his apartment to his bedroom. Inside there was candlelight. He got down on one knee and asked "Will you marry me?" He is my very own Louis as he sent me a dozen roses each month throughout our year and a half engagement. Of course what did I carry on my wedding day? Roses. This movie really brings back sweet memories with the floral theme. - L. Hoeflich