---

Broken Arrow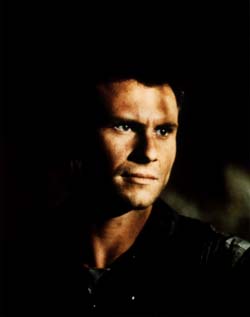 Rating: M
Release Date (Australia): March 28, 1996
In a nondesdript boxing ring, two fighters square off. Suddenly, fists in boxing gloves rush at each other - and us - with explosive force.
The intensity of the combatant's blows belies the fact that they are friends engaging ina spirited round of fisticuffs. Vic Deakins (John Travolta), the older and more experienced of the two is definitely in control, giving his young friend Riley Hale (Christian Slater) an impressive, if painful, boxing lesson.
In addition to having a mentor/protege relationship in the ring, Deakins and Hale are colleagues - crack military pilots who are about to be handed a choice assignment to fly the top-secret B-3 Stealth Bomber on a test run. Their cargo: two nuclear warheads.
Although anything but routine, the mission should go without incident. But a shocking treachery is about to put millions of lives at risk .... as the timer on an incredible nuclear extortion plot ticks towards ground zero.
In an instant, the once close friends become engaged in an explosive battle against time and each other with the fate of a major American city at stake. In the air and on the ground, in planes, on tops of trains, and clinging to careening Humvees, theirs is a no-holds-barred race to recover a lost nuclear weapon - a broken arrow.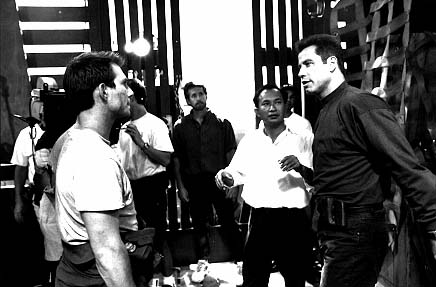 Christian Slater (Hale) and John Travolta (Deakins) with Director John Woo
Breaking new ground in the full-throttle action-adventure field, director John Woo, recognized worldwide as one of the cinema's premier actions directors, joins forces with two of today's hottest stars, John Travolta and Christian Slater, to bring the primal power of the Broken Arrow premise to the screen. It's a powerful teaming, truly befitting the story's nuclear-powered story line.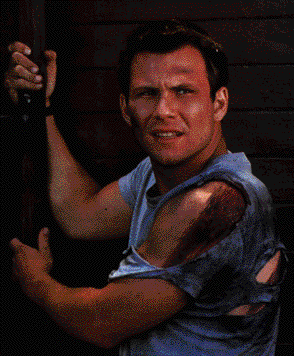 In addition to appreciating the opportunity to extend their on-screen persona's, cinematic icons Travolta and Slater jumped at the chance to work with a true movie superstar in his own right--director John Woo. Wools widely hailed Hong Kong-produced thrillers "The Killer,"A Better Tomorrow, "Bullet In The Head" and Hard Boiled" , are admired not only for their sensuous mastery of film craft, but also for their humane emphasis on the people at the centre of the action.
It was Woo's skill at blending high-voltage action and character-driven stories that drew Slater and Travolta to Broken Arrow. "I'm a huge fan of John Woo," explains Slater. "I've wanted to work with him since I saw 'The Killer' several years ago." Travolta, who had passed on previous action film projects, and who declares that Broken Arrow will likely be his only action film--"a one shot deal"-- was impressed with Woo's signature visual style after being introduced to his work by another celebrated flimmaker. "Quentin Tarantino told me about John Woo's films," remembers Travolta. After screening a few of Woo's works, the actor thought, "John's work in the action genre had a sense of art to it, which is very unusual. He's a real artist at delivering this kind of film."
Bill Badalato, who has previously worked with such filmmakers as Tony Scott, Jim Abrahams, and Diane Keaton, comments "John Woo is one of the most unique directors with whom I've ever been associated. He has a particular vision and a knack for placing the camera for complicated moves that really pay off."
Adds executive producer Christopher Godsick, who is partnered with Woo and producer Terence Wang at WCG Entertainment: "A John Woo film typically has intricately choreographed actions scenes that don't appear choreographed. Equally important, his films have fleshed-out characters who carry a particluar code of honour. And Broken Arrow is certainly no exception."
Broken Arrow also stars Samantha Mathis as Park Ranger Terry Carmichael, who teams with Hale to combat Deakins and his gang. "Samantha brings a kind of sweetness and vulnerability to the character in addition to the toughness," points out Terence Chang. "She lets you like this person, and care about her." Mathis, in turn, appreciated Terry's central predicament. "She gets involved in her worst nightmare"-- the possible destruction of the pristine desert she patrols by nuclear terrorists. "It's everything she has ever fought against."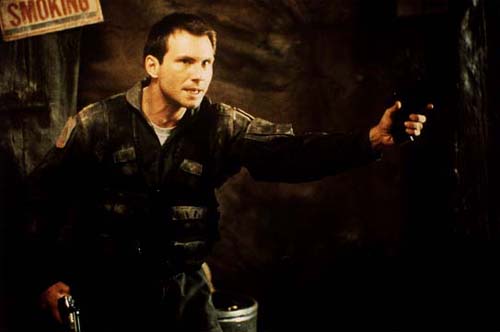 Figuring prominently in Carmichael's predicament is "Kelly", played by football legend Howie Long. The films impressive starring cast is rounded out by Delroy Lindo, who recently starred in Spike Lee's "Clockers" and appeared opposite John Travolta in "Get Shorty" ; Frank Whaley, the versatile young actor whose credits include "Pulp Fiction" and "Swimming With Sharks"; and Bob Gunton, who co-starred in the recent box office smash "Ace Ventura: When Nature Calls," and played the warden in "Shawshank Redemption." Key roles are also taken be Kurtwood Smith ("Robocop" ), Vondie Curtis Hall ( "Chicago Hope" ), and acclaimed Australian actor Jack Thompson ("Breaker Morant" and "The Sum Of Us" ).

"I don't know what is scarier," says a character in Broken Arrow, "the fact that there are missing nuclear weapons, or that is happens so often that there's actually a term for it."

The phrase Broken Arrow is indeed military parlance for a lost nuclear device. "There have been several broken arrows," explains Godsick. "For instance, in 1989 a nuclear submarine--with two warheads aboard--sank 300 miles off the coast of Norway, and was never recovered by the Navy. Also, nuclear missiles were never retrieved from a B-1 bomber that crashed in the Medditerranean. So our story is not as far fetched as you might think."

Such real life incidents provided the inspiration for screenwriter Graham Yost, who came across the unusual term from a source who informed him of yet another situation--a bomber and its nuclear cargo were lost in the Sea of Japan for several years before they could be retrieved. The possibilities of additional recent incidents were also hinted at.

While such timely and serious issues are always present, Yost's primary goal, of course, was to give the audiences and incredible ride. Acknowledging that his "Speed" and Broken Arrow scripts reflect his own tastes in entertainment, Yost comments, "I'd rather just have fun with the genre than be heavy and brutal. I enjoy trying to think of everything that could possibly go wrong for the characters in a given situation, and clever ways for them to get out of trouble."

Yost's script was an important selling point for Woo. "Besides providing a lot of great action sequences," comments the director, "the screenplay has some great characters. I also saw the themes which I've employed in many of my other films--tragic friendship, loyalty, betrayal, and honour."

Slater, Mathis, Travolta, Long and a top crew of stunt people were seemingly placed in harm's way from this hailstorm of pyrotechnics--bullets, hand grenades, engulfing fireballs, and diving helicopters passing inches above their heads--under the careful watch of stunt co-ordinators Allan Graf and Gary Hymes.

The athletic Slater readily embraced much of the stunt work . In one heart-stopping piece, shot during the third phase of production in the lowlands of central Montana, the script called for Slater/Hale to fall off a speeding train, get dragged and then pull himself along underneath--all of which he carried off flawlessly. "We took all the precautions," remembers Hymes, "but I'm sure it was pretty scary for Christian to be under the train. The fact that he did the stunt himself added much validity and credibility to the scene. We were fortunate that he and our other actors were athletic and were able to do quite a bit of their own stunts."

Slater and Travolta's athletic prowess also came in handy for the film's opening boxing sequence, which establishes the different levels of the relationship between the two friends as they trade punches. Former world boxing champion Carlos Palamino was brought in to teach them the basic boxing skills. In addition, Travolta, Slater and Mathis were individually trained in the handling of various weapons by weapons specialist Robert "Rock" Galotti, a decorated combat veteran who participated with the U.S. Forces in the Granada and Desert Storm campaigns. Given John Woo's penchant for unbridled action and gunplay, it isn't suprising that Galotti found Broken Arrow to be one of his most challenging projects. Says the veteran "armorer," who has worked hard to build a list of accident-free films including "Forrest Gump," "Born on the Fourth of July" and "Hard Target": John Woo likes weapons, and he likes gunfire. In Broken Arrow , we had about 60,000 rounds of ammunition--and we shot every single round, if not more.

Twentieth Century Fox Presents A Mark Gordon Production In Association With WCG Entertainment, A John Woo Film, John Travolta, Christian Slater in Broken Arrow, starring Samantha Mathis, Delroy Lindo, Frank Whaley, Bob Gunton and Howie Long. The co-producer is Allison Lyon Segan. The executive producers are Christopher Godsick and Dwight Little. The film is written by Graham Yost, and produced by Mark Gordon, Bill Badalato and Terence Chang. The director is John Woo.